Justin Joseph "JJ" Adkins
recently earned a bachelor's degree in sociology from California State University-Fullerton, graduating on the Dean's List with a 3.2 GPA. He's also the proud recipient of two Honor Society awards and the Sociology Department's "Most Inspirational Student" recognition. Now, he's investigating internships and applying to graduate schools to pursue a Master's in Rehabilitation Counseling.
JJ's drive and academic accomplishments are impressive, but all the more so considering he must contend with physical and communication disabilities resulting from a Traumatic Brain Injury (TBI) suffered when he was the victim of an assault at age 16.
Now 32, JJ uses a speech-generating NOVA chat 5 to communicate. The portable augmented and alternative communication (AAC) device from Saltillo enables him to converse with friends, family, caregivers, and others. "This device is almost like a mini-personal computer. It also has built-in apps that I find very useful," he states.
JJ lives on his own with caregivers assisting daily with basic living needs. But among his greatest challenges, he says, is "the ignorance that a vast majority of the population still has for individuals with disabilities and the lack of patience. To deal with it, I keep telling myself that I have nothing to prove, and I remember my worth."
"JJ is able to overcome the challenges of his disability with a 'mind over matter' attitude," adds his fiancé Brandy George. "He has never let his limitations hinder him."
Overcoming Obstacles to Attain a College Degree
Earning a college degree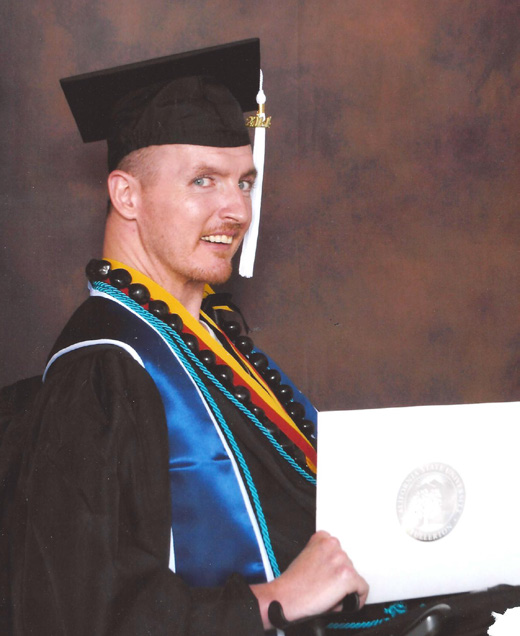 ranks among his most important accomplishments to date, and he does not believe it would have been possible without his AAC device.
One of JJ's professors at Cypress College, where he earned an associate of arts degree, concurs. "It was important that JJ be able to communicate with me and others effectively in order for us to understand how we could best help him succeed and achieve his goals," says Chrissy Sepulveda, who taught JJ's Biological Anthropology class. Though she had not previously worked with a student using an AAC device, Sepulveda says "we figured things out as we went along and got to know each other. JJ is very patient with me and he has a wonderful sense of humor. We made each other laugh a lot.
"JJ is one of the most amazing people I have ever met," she continues. "He is strong and tenacious and determined to be as independent as possible. He refuses to acquiesce to impasses that he may encounter, but rather finds way to transcend boundaries. What I admire most about him is his love and appreciation for life. He has a quiet and humble way of dealing with the negatives and directs his energy toward celebrating the positive aspects of life."
JJ was the first student to use an AAC device in Cypress College English professor Joan Daniels' classroom. "He is very patient and helped me get used to the device," she says. Daniels was impressed with JJ's "remarkable determination and positive attitude." One semester, when JJ was hospitalized for an emergency surgery, she recalls, "I suggested he take an Incomplete in the class so he would have enough recovery time without worrying about his assignments for the class. But he didn't miss even one assignment and completed the class with an A grade." Calling him "an exceptionally bright young man," Daniels adds that JJ "is one of the most positive people I've ever known or met. He's really our Stephen Hawking."
Volunteering and Family-Building
These days, the NOVA chat 5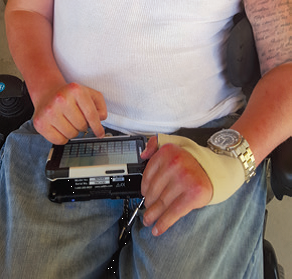 accompanies JJ on various volunteer ventures. "I have been doing a little volunteer work for the Orange County Child Abuse Prevention Center (OCCAPC), mostly assisting with fundraiser events. And I'm still going through the application process for Boy's Town, but I'm highly anticipating service with them because I'll be able to help troubled families directly."
Describing himself as "a true Philomath," JJ says he loves to learn new things, "and it kills me to sit idle. But my main focus and interest is my family. I am an only child so my parents are very dear to me. My father works in construction and my mother is a housewife. Growing up, my father would take me to work with him and teach me various skill sets, everything from working on cars to building a house from the ground up. My mother was my buddy. Sometimes she'd keep me home from school and we'd go to lunch, bowling, or to the park to throw the ball around. I believe this shaped me into the man I am today, because family is everything to me."
Now he is looking forward to starting his own family. "I'm engaged to a wonderful woman and she has two amazing children from a previous relationship whom I adore. We're trying to expand our family with one of our own."
Brandy calls JJ's AAC device "a blessing" because "it has given JJ a voice of his own. We are so thankful! I most admire JJ's unimaginable strength, intelligence, perseverance, and the way he always wears his beautiful smile, no matter what the scenario. He truly is my best friend."
Advice to Others: "Don't Give Up"
JJ is excited about what the future may hold: "Earning my Master's degree, starting a career I'll love, and marrying Brandy." He advises others with disabilities to "stay true to yourself, don't let others define you, and always try to smile. Happiness is contagious and understood in all languages." For those getting started in AAC, he adds, "don't give up and don't let others dictate which device is best for you."