To perform a soft reset:
Turn the device On, if it isn't already
Unbend a paper clip and poke it into the reset button located on the back of the device.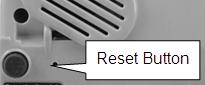 You will then see the system step through a variety of screens. No activations should be necessary during this process. It will take some time but the ALT-Chat software will re-load on its own.