Employees of Assistive Technology Leader Present NOVA chat 10 to
Five-year-old Ryann Frantz at
Nemours/Alfred I. duPont Hospital for Children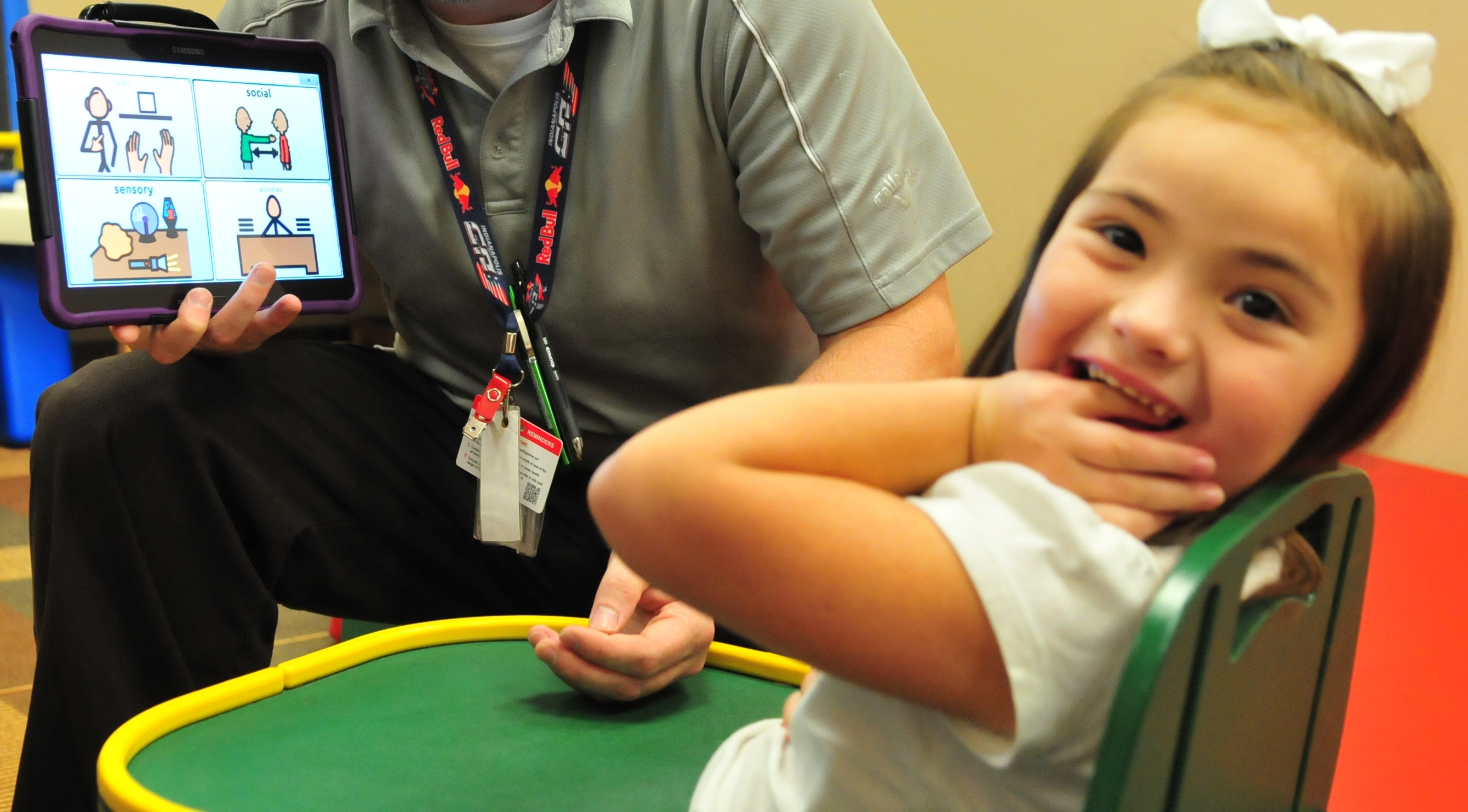 Photo Courtesy of Adelma Gregory-Bunnell of Cecil Whig newspaper
Millersburg, Ohio, October 14, 2014: The employee owners of Saltillo Corporation, a leading manufacturer of alternative and augmentative communication (AAC) devices, are celebrating Employee Stock Ownership Plan Month (ESOP) in October by donating a communication device to a Maryland child with severe speech disabilities.
Five-year-old Ryann Frantz of Chesapeake City, Maryland, was selected as the recipient and received her NOVA chat 10 plus device today at Nemours/Alfred I. duPont Hospital for Children in Wilmington, Delaware, where she is a speech therapy patient. The device was presented to Ryann by Aaron Shute, a Saltillo Regional Consultant.
Ryann, who attends kindergarten at Chesapeake City Elementary, has low muscle tone, or hypotonia, which makes speaking or using sign language extremely difficult. She is one of only two individuals in the world diagnosed with a rare genetic mutation.
Nova chat 10 plus is a powerful speech-generating device with proprietary Chat software designed to help children acquire and use language skills. Built on an Android platform, NOVA chat 10 plus offers a durable yet sleek, portable design with features that include a 10.1" display, switch scanning, ChatPower vocabulary, IVONA speech synthesizer, and many other Chat features. The device costs about $4,395.
"Ryann is a very happy little girl and she has a real desire to communicate with those around her," said her mother, Heather Frantz. "She took to the NOVA chat device immediately when she was introduced to it during speech therapy. However, our insurance company does not provide coverage for speech devices.
"Having her own NOVA chat 10 that she can use not only in therapy but at home and in school is going to change her life immensely," Frantz continued. "We are so grateful to Saltillo and its employees for their generosity."
"Ryann, her mother, and her Nemours Speech-Language Pathologist are so very appreciative of the roles that Saltillo and the Nova Chat are playing in her journey to more effective communication throughout all domains of her young life," stated Richard Lytton, M.A., CCC-SP, Coordinator, Clinical Assistive Technology Services at Nemours/A.I. duPont Hospital for Children.
"Our employee-owners take great pride in helping our customers succeed to their greatest potential," stated Saltillo President Dave Hershberger. "Like all Saltillo AAC devices, NOVA chat 10 plus supports speech output as well as robust language development. We are very proud to help Ryann live her life to the fullest by enabling her to communicate to her greatest potential."
The donation was also featured in Ryann's local newspaper today. Get the full story here.
About Saltillo Corporation
Saltillo Corporation, an employee-owned company in Millersburg, Ohio, develops and manufactures augmentative and alternative communication (AAC) devices, computer access products, and other assistive technology for people with speech disabilities.
Saltillo is a subsidiary of Prentke Romich Corporation, a global leader in AAC technology, and a member of the PRC consortium of AAC solution providers. PRC and Saltillo have enabled thousands of children and adults worldwide with speech disorders to achieve spontaneous, independent, and interactive communication regardless of their disability, literacy level, or motor skills.
The National Center for Employee Ownership (NCEO) estimates there are roughly 7,000 employee stock ownership plans (ESOPs) covering about 13.5 million employees in the U.S. in 2014. Employee ownership demonstrates dedication to innovative, quality communication technology products and customer-driven service standards.
For more information, go to saltillo.com or call (800) 382-8622.