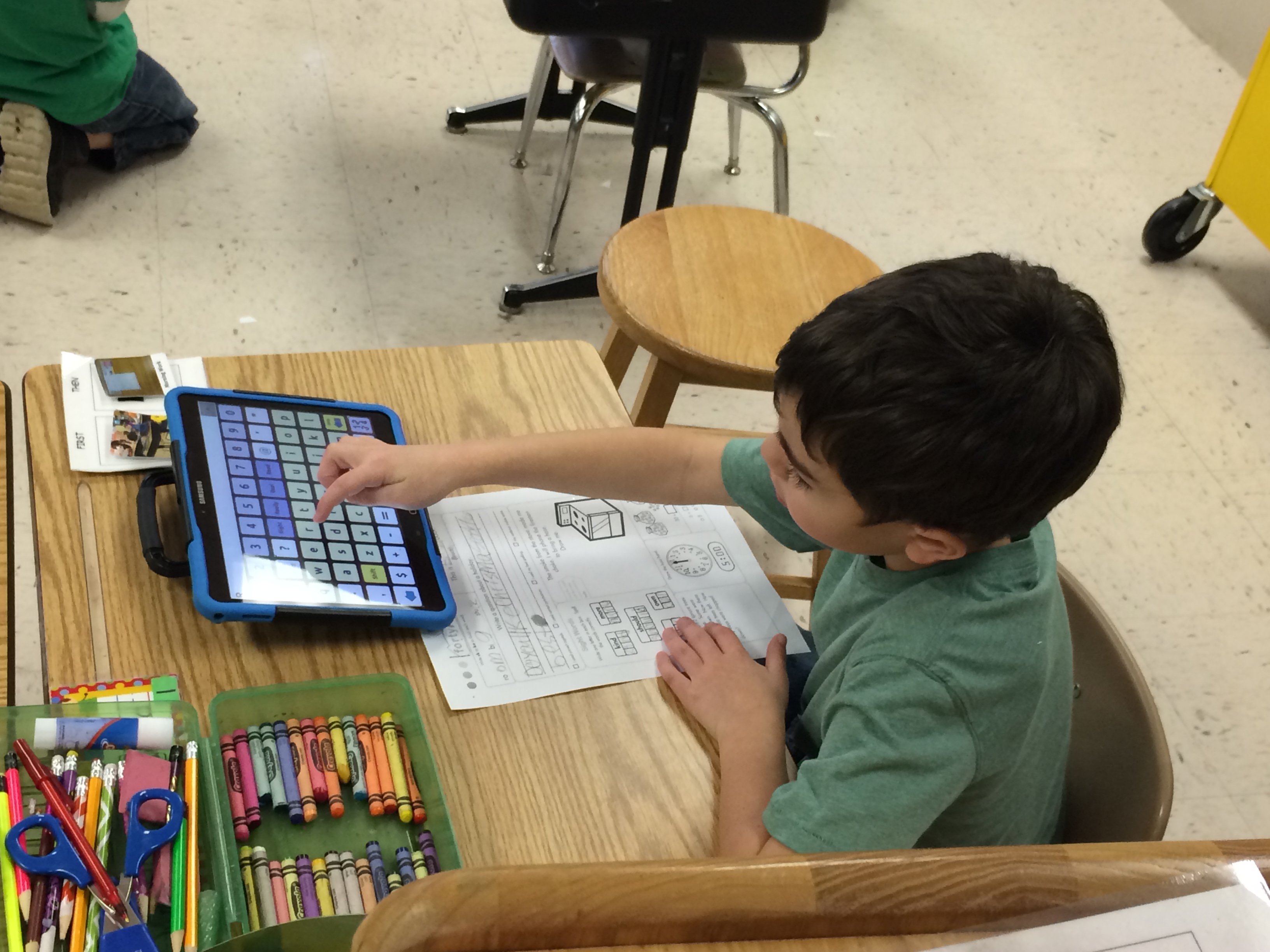 "When everyone works together and has the best interest of the student [in mind]…it all works out."- Julee Nawa, Ladd School Speech-Language Pathologist
Please meet Owen. Owen loves to spell. Owen is an adorable, sweet 5 year old boy who really enjoys using his NOVA chat 10. Owen has Autism and was essentially non-verbal. He had previously used a variety of low-tech AAC options and apps to increase his communication but nothing seemed to be the right fit. Owen would easily become frustrated when he was not understood or when he wasn't feeling well, as he had no way to express himself.
Owen attends Ladd School. The staff and administration at Ladd School knew that something needed to be done to help Owen communicate so that he could be successful and understood in school and at home. Mr. Lawrence, the school's Principal, contacted the Illinois Assistive Technology Program (IATP; www.iltech.org), a state funded program that provides a wide variety of services from providing a device lending library to providing grant funded, school based AAC evaluations across the state, to seek assistance for Owen.
Marguerite Simon, a Speech-Language-Pathologist who conducts AAC evaluations for IATP, evaluated Owen last school year and began the process for determining what device may best work for Owen. Marguerite stated, "The beauty of the Illinois State Board of Education (ISBE) grant AAC evaluation program is that we are able to reach out to small towns who don't have the AAC resources available for evaluations and device trials. I love the fact that we can reach so out to so many districts across the state."
The school staff and administration have fully supported Owen and his family prior to and during the funding process until he received his NOVA chat in September 2014. Ladd School has even purchased an additional charger to ensure that Owen's NOVA chat is fully charged and ready to be used at school. At home, Owen is able to "find something that will help him convey his feelings"; something that he was not able to do prior to having his NOVA chat. His school and family have demonstrated consistent support, team work, advocacy, and dedication. They have seen Owen's moments of frustration decrease and have observed an increase of wanting to communicate with others.
Julee Nawa, Owen's SLP, reported that since September, Owen is using his NOVA chat to independently say 'hello'/ 'goodbye' to his peers and staff members at school. She has noted that Owen has increased his use of eye contact, interacts with his peers more, participates in classroom activities, and he has been observed to be producing more sounds and some word approximations! Julee noted that "Everyone [at Ladd School] has gone above and beyond." Julee says it best when she said that Owen's NOVA chat, "Has given him a voice. It's his voice!"