Recess. Is there any other time at school that children like as much as time spent playing?
Children who use AAC, however, face a unique challenge. When playing outside with their classmates, taking an AAC device with them means the device can get broken or lost. But without it, there is no way for the child to communicate with their friends or teachers.
Here at PRC-Saltillo, we're thrilled that, more and more, the AAC community is providing large symbol-based communication boards for playgrounds, promoting both independence and inclusion for children who use AAC. As these have grown in popularity, we've received many questions about how schools can create a board for their playgrounds, and how the symbols and vocabulary options should be identified on these boards.
Below you'll find information on starting the process, beginning with:
The files you'll need to take to a printer to create a board.

Please note: These files were created in InDesign. If you do not have the latest version of this program, you will not be able to open the file. However, your printer should be able to and can send you a draft to review.

Instructions for how to properly acknowledge intellectual property rights on the board
Ready, set…go!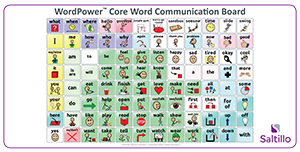 Click the image to download a PDF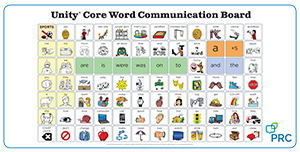 Click the image to download a PDF
Click the image to download a PDF
Instructions for Creating a Board
Download the files.
Take these to your local printer. They will request the files, which you can either copy onto a thumb drive or send via a large file transfer service (each zip file is approximately 25 mb).
Your printer will help you determine the type of board material and size you will need. We suggest a highly durable material, one that will withstand repeated use and the weather.
Once printed, your sign will either need to be mounted to a wall or put on a post.
Terms of Use
To use our Core Communication Board templates or icons from our websites, a PRC or Saltillo device or app must be supported in the school or organization.
The playground boards (or any low-tech material using these symbols) should not be sold, re-sold, or commercialized.
If you are creating a custom board, i.e., not using one of our complete templates as-is, you must include the appropriate copyright statement somewhere on the board:
When using MINSPEAK ® symbols from Unity/LAMP Words for Life/UNIDAD: © PRC-Saltillo/Semantic Compaction Systems, Inc.
When using SymbolStix ® symbols from WordPower™: © PRC-Saltillo/SymbolStix/Inman Innovations
Optional: If you would like to add a website for more information about our AAC systems, please include: www.prc-saltillo.com.
Other Things to Note
PRC-Saltillo cannot accommodate requests for custom designed signs.
If you wish to create a custom design you will need to acquire the appropriate licensing. A subscription to LessonPix will provide access to numerous licensed icons, including Unity and LAMP icons. Icons used on WordPower can be accessed with a SymbolStix PRIME subscription.