Alan Kovacs, a true survivor and experienced AAC user
Alan Kovacs was born in the Philippines in 1983, where he learned to speak and understand Tagalog.
He was adopted by the Kovacs family, and came to the Unite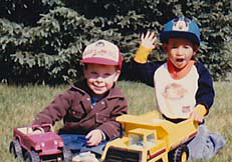 d States at the age of 26 months, to live in a very different non‐tropical place, to learn a whole new way of life, and to learn a new language! Here's Alan, enjoying some play‐time with his brother, Tom.
Alan needed life‐saving surgery to repair a heart defect, and this is where his story takes an abrupt turn. An anoxic episode related to the surgery left Alan comatose, with a loss of such basic functions as the production of tears and saliva, and reflexes such as the ability to swallow. For several months, Alan was fed through a tube and could not even focus his eyes. His "survivor" instincts prevailed, and with lots of effort and therapy, Alan re‐learned significant motor skills, and got to remove the feeding tube. The brain injury did cause permanent physical and other deficits, including an inability to read, impaired numerical skills, and significantly impaired ability to communicate using verbal speech.
Learning English as a second language – while learning to use an AAC device!
Renowned speech pathologist Tracy Kovach and her staff at The Children's Hospital in Denver, CO evaluated Alan and, despite his limited English skills, found him to be a candidate for an AAC device. Although it was heavy, clunky, non‐intuitive to use, and had a "robot" voice, it was a step in the right direction for Alan. His kindergarten teacher observed that the device dragged on the ground when Alan
tried to carry it, and that it was probably intended for a wheelchair tray. The school staff made Alan a cart with wheels to allow him to move around the school with his AAC device!
Alan withstood a number of techno‐phobe school staff, along with those having knowledge and experience in AAC. He attended Tracy's Talking With Technology (TWT) camp at Easter Seals Rocky Mountain Village. Alan continued to improve his AAC and language skills, during the evolution of AAC toward smaller, more portable and functional devices. While Alan was attending a post‐high‐school transition program, his speech pathologist became aware of the availability some new, smaller AAC devices. In 2006, Alan got a Chat‐PC, a handheld AAC device from Saltillo Corp.

Opportunities! Employment, Recreation, and… Saltillo Ambassador!
High school job placement efforts found Alan a part‐time position washing golf carts at a local golf course – a job that has lasted for 15 years! His handheld AAC device (now Saltillo's Nova‐Chat 5 Plus with PalmChat software) opened up additional employment opportunities, and he was hired in 2006 to work on weekends at a recreation center gym. Employees at the recreation center are required to use twoway
radios to communicate, and a handheld AAC device can easily work with the two‐way radio system. Alan's Nova‐Chat 5 also allows direct communication with clientele requesting gym equipment, or needing assistance with gym rules. In one case, a client was injured in a volleyball game and required emergency medical assistance. Alan used his Saltillo AAC device with the two‐way radio to call for help.
Alan had the opportunity to meet Dave Hershberger, and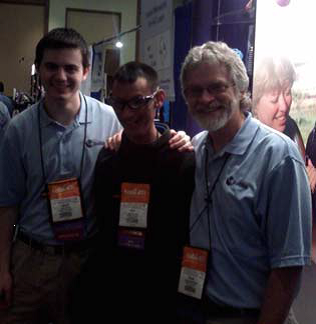 in 2007 Alan became the first Ambassador for Saltillo Corp. He has represented Saltillo Corp. on numerous occasions, including speaking at a Colorado Speech and Hearing Association (CSHA) conference. He also co‐taught a class at the University of Colorado, Boulder, using his AAC device. Here is a photo of Alan pictured with a member of the Saltillo staff, and Dave Hershberger at the 2009 ATIA conference in Orlando, FL.
Alan and his brother Tom (a doctoral student at the U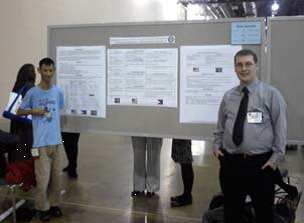 . of Pittsburgh) co‐authored a poster presentation for the 2010 American Speech and Hearing Association (ASHA) conference in Philadelphia. They presented their full paper at the 2012 International Society for Augmentative and Alternative Communication (ISAAC) conference in Pittsburgh.
Alan loves to travel, and has visited numerous places in and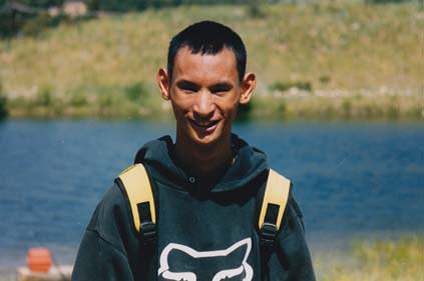 outside the U.S. His very favorite place, however, is Easter Seals Rocky Mountain Village in Empire, CO, where he first attended Talking With Technology Camp at the age of seven. He still attends adult camp sessions, and spends some time
volunteering at the camp.

In his spare time, Alan enjoys using his iPad with Saltillo's TouchChat app, to create iMessages and email messages with family and friends. He uses the text‐to‐speech feature to read his incoming messages. Alan's iPad station is set up with a ModularHose iPad mount.
Alan enjoys sports, as a fan and as a participant. His favorite sport is basketball; he loves to attend NBA games, and plays Special Olympics basketball. The Denver Nuggets Dancers know Alan by name. This photo of Alan with the Dancers was taken at a Special Olympics basketball tournament, and was posted on the Denver Nuggets NBA website.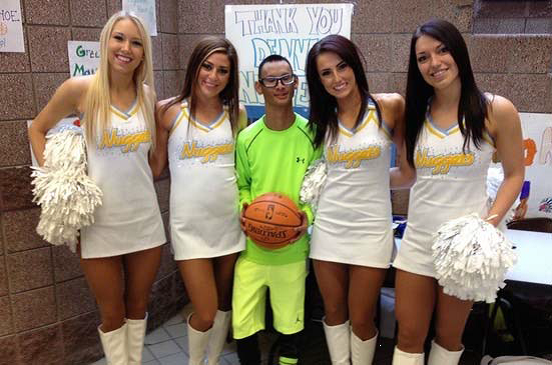 Alan's love of basketball is quite well known. A few years ago, he was recovering from another open‐heart surgery in the ICU. His doctor got the hospital to authorize a sports channel on the hospital TV service so that Alan could watch NBA playoff games during his hospitalization! More recently, Alan spent a night on the cardiac observation floor of the hospital, successfully relying on his Nova‐Chat 5 to communicate with the nurses. It was the first time he ever spent a night in the hospital without a family member to assist with communication. Wow! Life can be quite a journey, and an AAC device can make a huge difference!!