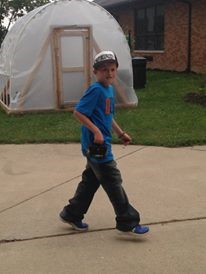 Meet Bryson, a determined and passionate 10 year old that is full of personality. He enjoys music, books, animals, anything outdoors, Spider-man, and time with his friends. He is able to put a smile on the face of those around him and impacts people more then he may ever know.
Bryson has overcome many struggles in life and is a survivor of child abuse. He is diagnosed with PTSD, anxiety, apraxia, childhood acquired aphasia, and ADHD. He has a unique joy about him and has started to create his own path in life. Bryson is currently able to use about 50 words verbally that are understandable to others but relays upon assistive technology to really have his voice heard.
Previously, Bryson had tried multiple high-tech AAC options before latching onto TouchChat on the iPad. After about a year of success his family pursued a dedicated device for better portability and an external speaker. He immediately picked up the NovaChat 5 and has not put it down since. Bryson's private SLP reports, "Over the past year, Bryson has demonstrated tremendous growth initiating independent, spontaneous communication using his device. Both his core and fringe vocabulary has grown significantly, and he is able to generalize vocabulary to novel contexts. He is even beginning to use word combinations. His entire team is ecstatic about his communication progress!"
Bryson is able to combine 2-3 words for simple sentences for a variety of functions across environments. He enjoys not only using core and fringe words but also using visual scenes during play and when communicating with his peers. Bryson has even recently started using vocabulary that he has learned through incidental teaching through adult and peer modeling.
Thanks to the NovaChat, Bryson has finally found his voice and a way to express himself. His family and friends now know that he prefers rap and alternative music instead of country and that if he were allowed he would eat pizza for every meal and a granola bar for every snack. He is able to express his love for animals, draw adult and peer attention to the books he is reading, and comment on the world around him. He thinks it is hilarious to make adults sing and also loves seeing what hoops adults will jump through as he makes other requests. Bryson is finally able to show the world his personality and interact with all that goes on around him.