Individuals with Disabilities Show Others What's Possible using Speech-Generating Devices from PRC and Saltillo Corporation
Wooster, OH, March 2, 2015--Augmentative and alternative communication (AAC) devices enable individuals with speech disabilities to express their thoughts and ideas and actively engage with others at home, in school, at work, and in the community. And there's no one better to demonstrate the life-changing power of AAC than someone who relies on a device every day.
That's the premise behind the groundbreaking AAC Ambassador Program operated by global assistive technology companies PRC and Saltillo Corporation.
Speech devices and other technology solutions from PRC and its sister company, Saltillo, enable adults and children with physical or neurological disabilities to fully express themselves and achieve their communication potential. Both organizations provide a wide array of AAC communication systems and accessories.
Device Users Show Others What is Possible
PRC and Saltillo AAC Ambassadors are real device users who share their stories of everyday life as a person using AAC.
"Our Ambassadors are amazing spokespersons for the power of AAC," says David L. Moffatt, PRC President. "Ambassadors personally and powerfully deliver the message of hope that AAC offers to those with speech disabilities."
Moffatt says that focusing on abilities instead of disabilities is the philosophy that drives the employee-owners of PRC and Saltillo. "Our Ambassadors bring that approach to life," he explains. "These programs also enable us to provide employment opportunities to those with disabilities, which is a strong and important message to send to other employers."
Government reports indicate that less than 20% of individuals with disabilities participate in the labor force, Moffatt notes, "a statistic we'd like to see improve as more employers realize the true potential of people with disabilities and the power of AAC to overcome workplace communication challenges."
PRC Amb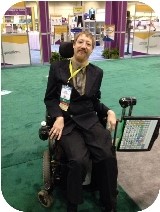 assador Noah Trembly, a technology and accessibility consultant at a major university, is pleased to have found work that leverages his interests and talents. "Like so many people with a disability, I had a very hard time obtaining gainful employment," he shares. "Then I was fortunate enough to be chosen by PRC to be a part of a pilot program [the AAC Educator Project] that they wanted to do at Ohio University. That pilot program went really well, but more importantly, it started a relationship between me and Ohio University and their employees, which I can proudly call my colleagues now."
Trembly communicates using a speech-generating device because of disabilities related to cerebral palsy. He operates his ECO2™ using infrared head-pointing. In November 2014, he presented the prestigious Edwin and Esther Prentke AAC Distinguished Lecture to hundreds of professionals gathered at the 2014 annual convention of the American Speech-Language-Hearing Association (ASHA) in Orlando.
Helping Professionals and Families See Communication in Action
Exposure to AAC Ambassadors enables speech-language pathologists (SLPs), educators, augmented communicators, and their families to witness the communication successes achieved by actual AAC users.
As Trembly did, ambassadors often present their experiences to SLPs at professional conferences. Other times, ambassadors meet one-on-one with someone starting their AAC journey who can benefit from "seeing the future" and having a friend who understands the challenges of getting there.
In every venue, Ambassadors strive to promote greater understanding of AAC and acceptance of AAC users by sharing their personal experiences and demonstrating skillful augmented communication.
"Our Regional Consultants find that inviting an AAC Ambassador to a local conference or university seminar on AAC greatly enhances the experience," says Trudi Blair, PRC Consultant Network Operations Coordinator. Blair has been involved with the PRC Ambassador program since its inception 19 years ago and continues to oversee it.
"PRC currently has more than 40 Ambassadors nationwide and Saltillo has 10," she says. "These Ambassadors Skype with therapists and AAC users, work at AAC camps, mentor other device users, present at national conferences, represent and lobby for the AAC industry to Medicaid/Medicare offices, present at PRC and Saltillo company meetings, and organize user groups. A few Ambassadors have also been employed by PRC as contractors on special projects, including beta-testing new PRC products."
Seeing is Believing for SLPs
Exposure to AAC Ambassadors can be as motivating for speech and language students and professionals as it is for AAC users, says Saltillo President Dave Hershberger. "Many people, including some SLPs and educators, have never had the opportunity to personally interact with a competent AAC device user. This exposure can positively influence an SLP's future decisions and recommendations for clients who may benefit from AAC."
"I want every student who works with individuals who use AAC to have an expectation of success, of self-determination, and employment as the baseline," explains John McCarthy, Ph.D., Associate Director of Communication Sciences and Disorders in the School of Rehabilitation and Communication Sciences at Ohio University. "As someone who is employed, Noah helps demonstrate that expectation of success. His example helps move students from not expecting to encounter individuals with more severe disabilities to asking, 'Hey, where are the people with disabilities in this organization?'"
How Ambassadors Benefit
Serving as an AAC Ambassador provides an AAC user with a sense of pride, says Blair. "These are talented and motivated individuals who want to be productive. They enjoy leading the way for those new to AAC or struggling with communication challenges." All ambassadors are compensated for their time and travel expenses.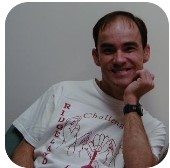 Bac Shelton, 44, a painter and art instructor in Texas whose communication challenges are related to cerebral palsy, says he became a PRC Ambassador 15 years ago "to help nonverbal people to get a communication device and to become their role model. I also want to be able to make my own money along the way and meet people." In those early years, he remembers, "most people did not know what AAC was. For me, working at the booth during conferences and traveling with John Halloran, PRC Senior Clinical Associate, opened the eyes and minds of other people when they saw me using my AAC."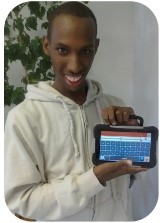 For Jamel Mills, 29, who has Moebius syndrome, serving as a Saltillo Ambassador is one way to "show people I can do some things without speaking. I love dancing and I am writing a novel and a musical. I love my NOVA chat 7. I can finally talk after all these years."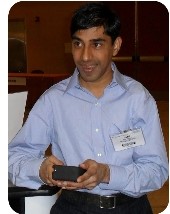 Saltillo Ambassador Adil Sanai came to the U.S. from Pakistan in 1999 when he was 15. "I was very determined to have a better life here," says Sanai, who has cerebral palsy. "There were no schools for people with disabilities, so I never went to school in Pakistan. I couldn't walk or close my mouth. I did not have a wheelchair so my family carried me everywhere. When I came to the United States, I received medical help and had many surgeries. I can now walk and close my mouth. I now attend AHRC Queens Workshop in New York City. I also work at Marshall's [department store] three days a week. I use a ChatPC device so people can understand what I have to say."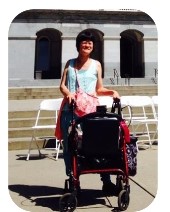 PRC Ambassador Kim Vuong enjoys serving as a role model and mentor to AAC users, especially children. "I have often talked to many parents and teachers who are concerned that young students are not using their devices effectively in real situations. When I asked them why they think this is happening, they generally have said that their children don't have anyone to learn from. This is not hard to understand, since modeling is a powerful form of learning. A child needs to see that another person has the same experiences, so that it does not seem weird for them to use their device."

"Our Ambassadors bring a believability factor to AAC devices and what a client could accomplish with them," says Cara Hubers, National Market Consultant at Saltillo. "They show the public that just because someone cannot speak, it doesn't mean they don't have something to say and contribute. By showing others their success and the power behind speech devices, they are having a big impact."
About PRC

PRC is a global leader in the development of AAC solutions, including augmentative communication devices, computer access products, and other assistive technology for people with speech disorders.
A 100% employee-owned company headquartered in Wooster, OH, PRC pioneered the use of technology to bring speech and language capabilities to adults and children with disabilities nearly 50 years ago. Since then, the company's products have enabled children and adults worldwide to achieve spontaneous, independent, and interactive communication regardless of their disability, literacy level, or motor skills.
In addition to powerful AAC devices, PRC provides teaching and implementation ideas, therapy materials, curriculum sequences, funding assistance, and training to speech-language pathologists, special educators, and the families of AAC communicators.

For more information, go to prentrom.com or call (800) 262-1984.
About Saltillo Corporation
Saltillo Corporation, an employee-owned company in Millersburg, Ohio and subsidiary of PRC, has developed and manufactured augmentative and alternative communication (AAC) devices, computer access products, and other assistive technology for people with speech disabilities since 1996. Saltillo also operates an assistive technology e-commerce website, Silver Kite, at http://www.silver-kite.com/
For more information, go to saltillo.com or call (800) 382-8622.