Meet George R. He is our Spotlight star for September. George is 9 years old. He is in the fourth grade at Mountain Road Elementary School. Most of the day, George is in a self-contained classroom, but he does go with other students to science, social studies, and specials like art, music, etc.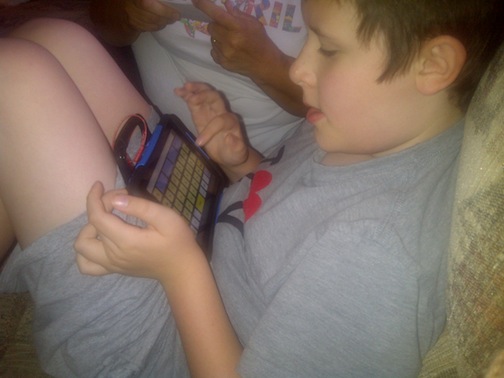 He lives with his mother and younger brother William. George and William's pets include a fish named Beta, a hamster, and a bearded dragon, which is part of the lizard family. George also likes birds, especially penguins. In his spare time at home, George likes to read and use the computer. His mom says he has always been great with technology. He can find anything on the computer. His favorite game is "Angry Birds".
George's mother describes him as shy and not real verbal unless you ask him a question. He doesn't use a lot of spontaneous speech. George began going to Dynamic Therapy Associates in Kennesaw when he was 2 years old. His mother reports that his therapist, Miss Vicki, was the only person who had high expectations that George would talk. When George was two and a half, he was still babbling rather than using words. He really didn't start talking until he was about 5. His therapist described him as apraxic, and he also had some motor issues. While there are still some intelligibility and motor issues to work on, George has shown marked improvement in many areas, especially in fine motor skills. George's first AAC device was a Dynavox. He didn't really take to it because it was too big and heavy to carry around. Miss Vicki introduced George to the NovaChat 7. She wanted to see if he could manage it better because it was smaller. The NovaChat proved to be a winner!! George understood how to find his way around the pages in no time. He was motivated to use it immediately with minimal prompting. George received his own NovaChat around the first of June this year. He is using the ChatPower 42 vocabulary file.
Right now George prefers to verbalize when folks ask him questions or if he wants something so he is using his NovaChat as a learning tool when he's doing his homework or working on his spelling. He is also using it more and more to answer questions about what he is reading. George's mother feels that with the NovaChat, George is more focused. She feels that his speech has improved because his vocabulary has increased.