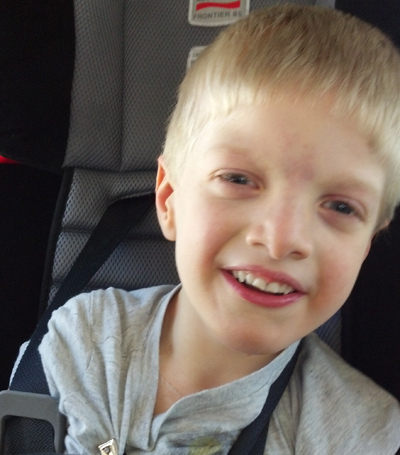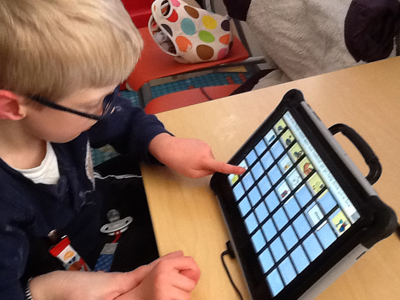 "The lights are on in there," the doctor would say at every visit. And they always have been for our sweet Parker, who is 6, and although still undiagnosed, struggles with severe mitochondrial dysfunction, hypotonia and cyclic vomiting among other things.
Parker is non-verbal, but has always been an excellent communicator - it was easy to figure out what he needed. But still, he needed and deserved a "real" voice. We knew he had things to say, things we wanted to know about him - and mostly when he was sick (Parker has been in the hospital 119 times) we wanted to understand what was wrong so we could help him feel better.
Before Parker was matched with the Nova Chat we had tried it all. We had Big Mac Buttons, communication cards, charts and binders. We did PECS. We tried sign language. We moved on to the iPad and tried many different apps. We tried the GoTalk. They all worked with minimum success, and they were exhausting. The reality was, I was often times taking care of a very sick child, and I really didn't want to carry around a (fill in the blank...binder, necklace, chart, large device).
On our journey, we have been so very blessed to have worked with two of the best speech therapist. Our first super-therapist, after working with Parker for four years, looked up at me one day and said "it's time, you need to see Pat."
And it was. Now we had found our amazing second super-therapist. She, after months of working with Parker and trying all different devices, matched him with the Nova Chat. Pat, Parker and the Nova Chat are a match made in heaven. Finally a device that could house all his vocab in one spot. Finally a device that was portable. Finally a device, that with Parker's low tone, was easy for him to use. Finally he had a voice.
There have been many magical moments in the year since Parker received his Nova Chat. The first time he requested to eat (eating was something he did not learn to do until he was 5). Pat got him a snack - and he ate it! He really did, want to eat. His love of music was also confirmed through using the device, Parker told Pat he wanted to play music, and would pick out individual instruments to play. I've been in awe watching him grow more proficient and stronger (in the beginning he needed 100 percent assistance to find the right word and push it) at using the device. But mostly, I have also had the opportunity to get to know my son. Yes, he really did want blueberries for a snack every day. No - he really did not want to watch "Mickey Mouse Clubhouse" anymore. He told us he needed a hug, a break, a drink -a juice box to be specific, and so much more.
And then one day, my real dream came true. We knew Parker was having a so-so day, but all of a sudden, in the middle of his session with Pat, he used the Nova Chat to tell Pat his head hurt and he needed medicine. There was a moment of silence and disbelief - and then cheers (and I really wanted to cry).
I feel lucky that we were able to match Parker with the right device (and therapist) so early in his life. I know this is only the beginning of what he will learn and be able to tell us, and I can't wait to find out what he has to say!