You asked and we listened…introducing the new TouchChat® Discover app! TouchChat Discover's risk-free, 30-day trial allows you to experience everything our popular TouchChat app has to offer, giving you valuable time to evaluate if it's the right solution for your communication journey.
"Our mission at PRC-Saltillo is to ensure that individuals are able to effectively communicate and interact in their environment," commented Sarah Wilds, VP, Product & Service Development. "With the addition of TouchChat Discover to our family of apps, WordPower® and other "Chat" vocabularies will be able to reach even more customers who use AAC."
TouchChat Discover is an invaluable resource and we're so excited to be offering access to a trial of our top AAC app FREE for the first time ever! Perfect for parents interested in exploring AAC for their child, for speech-language pathologists searching for the right communication solution for their clients, and for teachers looking for a resource to help their students who lack verbal communication skills, TouchChat Discover is a powerful communication tool for a variety of situations.
How to Start Your Free 30-Day TouchChat Trial
Step 1
Download TouchChat Discover from the App Store®.
Step 2
After downloading, you'll have the option to start a free 30-day trial OR to use WordPower96 English and Spanish lite-tech boards.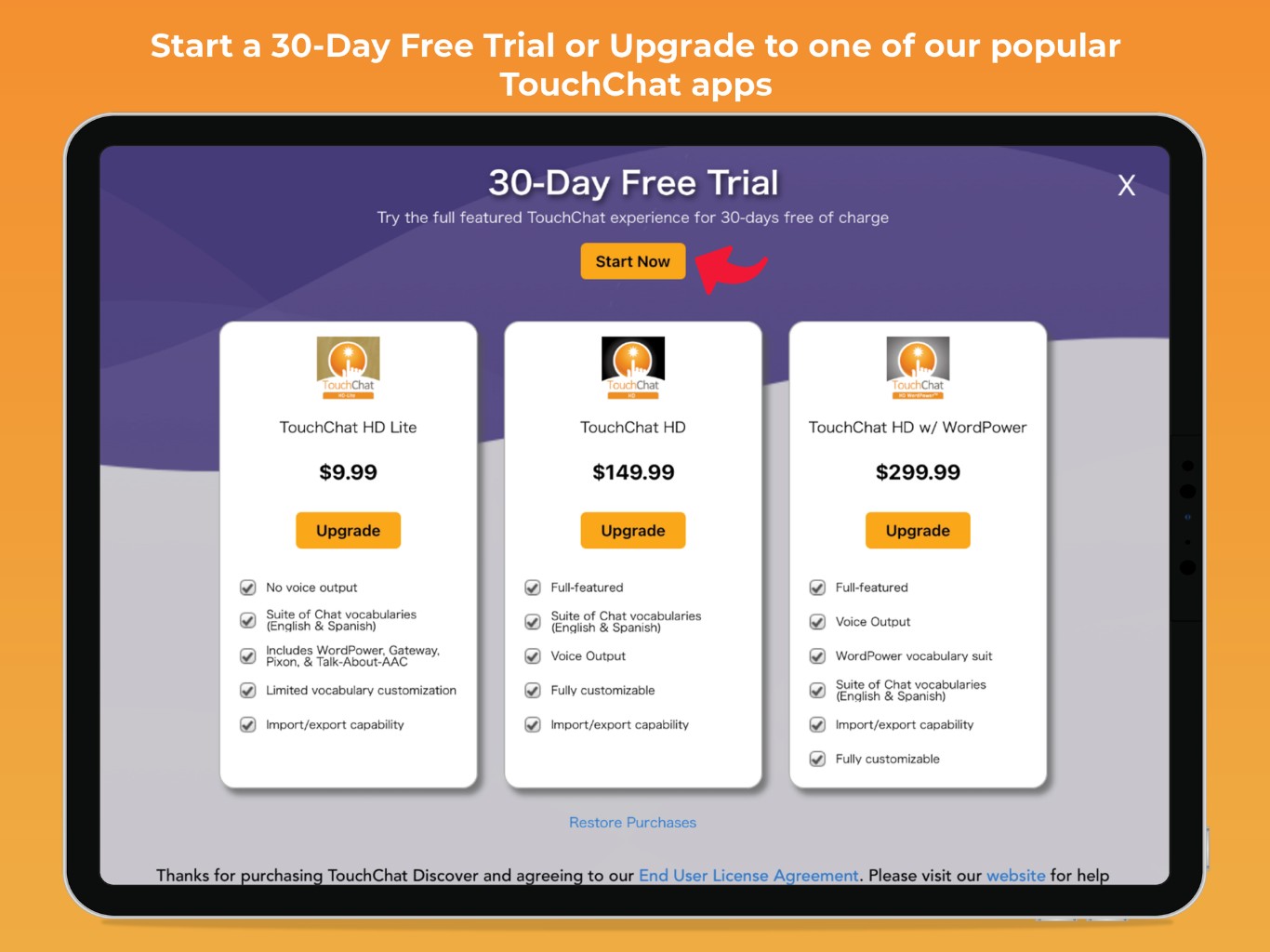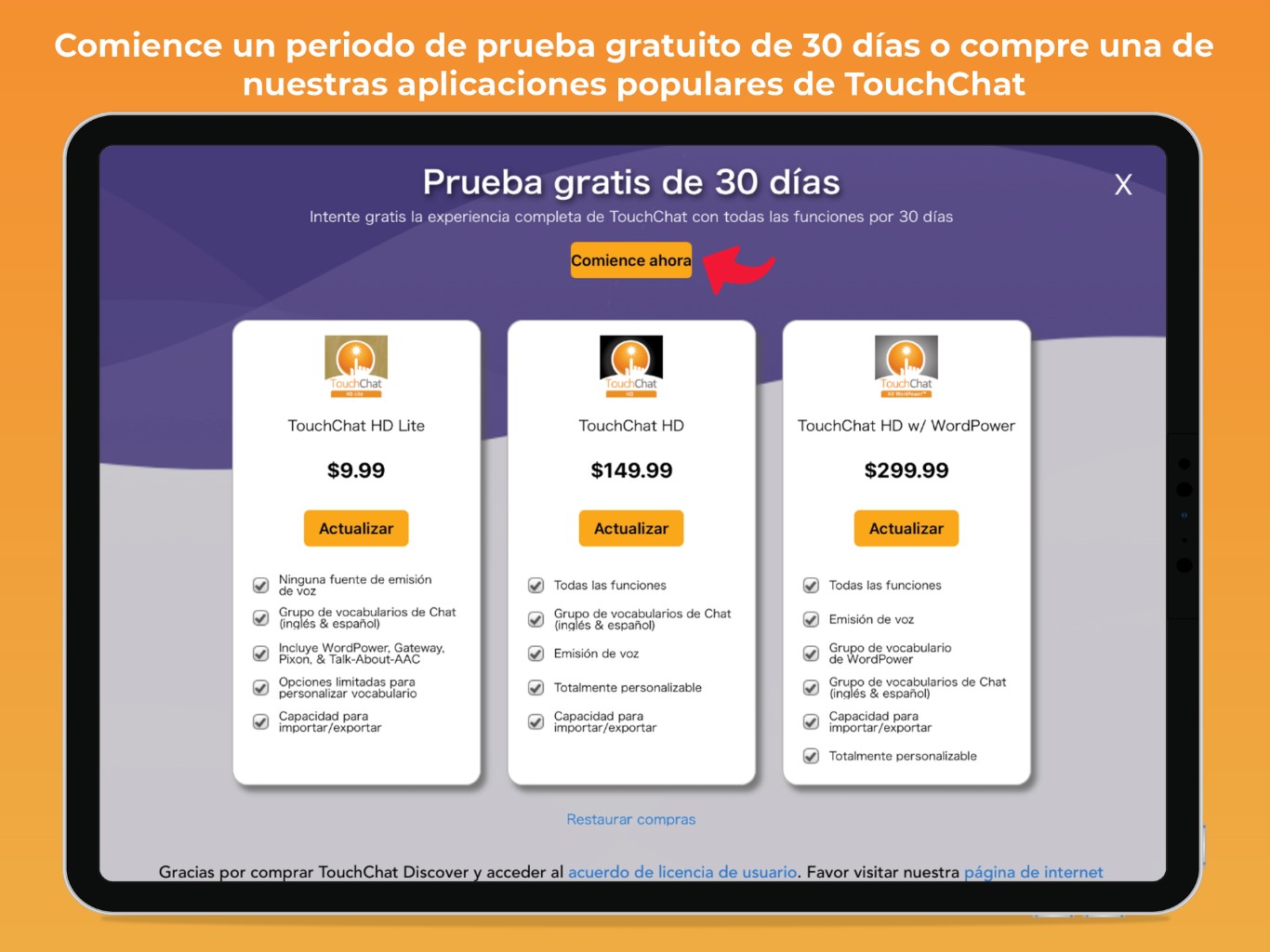 Step 3
When your 30-day trial ends, you'll have the option to purchase TouchChat HD w/WordPower, TouchChat HD or TouchChat HD Lite without needing to download a separate app. If you don't make a purchase, you'll only have access to the WordPower96 English and Spanish lite-tech boards. Please be aware that after an upgrade, the app's icon will update to the option chosen, but "TouchChat DS" will still be the app name that appears under the icon.
An industry-leading iOS-based AAC app, TouchChat has easy-to-customize features and a wide range of vocabularies, languages, and voices. Its intuitive design gives individuals who have difficulty using their natural voice the ability to communicate with the world around them using the familiarity of an iPad®, iPad mini®, iPhone® or iPod touch®.
Powerful Communication Backed by Helpful Support
With a downloadable TouchChat Manual & Quick Reference Guide, live online training for a variety of topics, consultant-led recorded webinars for on-demand learning, and support articles full of detailed how-to's and troubleshooting tips, we provide the support you need for success. Easily submit trouble tickets online at www.prc-saltillo.com/support-request for timely support and convenient status updates or email any support-related questions to support@touchchatapp.com.
Get accelerated help during regular business hours using LiveChat or a toll-free phone number when you subscribe to one of our premium support plans. For U.S. TouchChat sales only.
Update to TouchChat 2.36.0
- With this software update, you'll notice the following:

Integration of Acapela's my-own-voice service that allows you to create a synthetic voice using your own voice

- A variety of library changes including a Spanish translation for directions in the "Writing to Apps" page and a new WordPower25 Español file that is comparable to the content and design of the English WordPower25
Did You Know?
The TouchChat app is also available on our funded iOS speech-generating devices, the Via® Pro, or TouchChat Express, making the TouchChat Discover app a great way to try out the software before starting the funding process. U.S. residents may qualify to have one of these devices partially or fully funded by private insurance, Medicare or Medicaid, or a combination of these sources.